NEW YORK (TheStreet) -- I'm not trying to start a social movement among legions of diehard Taylor Swift fans. (Though if anybody could start one it'd be them. And I don't mind if they do).
I just believe, from a business perspective, it's an absolute no-brainer for Yahoo! (YHOO) to take ownership of a live concert streaming space nobody, outside of a handful of startups and random musical acts, seriously dabbles in.
Consider the following logic that hypothetically lays out one of the many ways a Marissa Mayer-led live concert streaming strategy could take shape.
If I'm Mayer I'm doing two things right now: Buying up and/or partnering with live concert streaming startups such as iRocke and even smaller outfits like Concert Window (the way she she did Evntlive). Going after a big name act (or two) as a proving ground for the popular and economic viability of the space. Taylor Swift comes in on point two.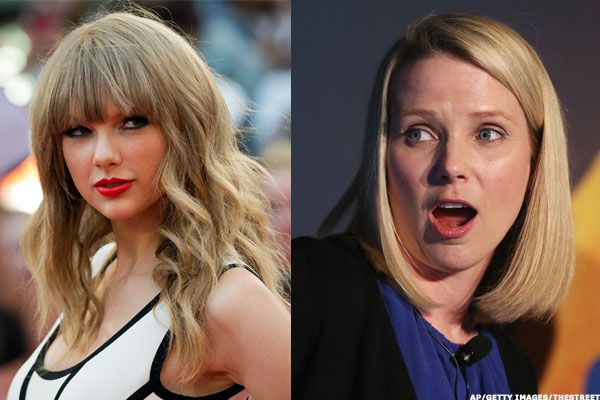 I use her as an example because there's no better example to use. The passion Swift's fans have for her parallels the passion Bruce Springsteen's fans have for Bruce and (recent Rock and Roll Hall of Fame inductees) The E Street Band. It's this passion that debunks the inane notion that live video streaming of concerts might dampen enthusiasm for the in-person live performance. Some folks -- in the music industry of all places -- are actually against live concert streaming because they think it will detract from ... exactly what I don't know. Have any members of the music industrial complex ever been, how you say, diehard fans? Have they gone through the emotional processes that take place pre-show, in-show and post-show with respect to the Swift, Springsteen or (insert your favorite here) experience? I don't think they have or live concert streaming would be a widespread thing that's happening right now. The Music Industry Doesn't Serve the Emotional Needs That Result From Extreme Fandom There's a Springsteen fan message board I used to visit frequently. Prior to each show, a member starts a "Setlistvision thread." Then during the show people who are not at that night's show are in touch, via smartphone, with fellow fans in attendance. Throughout the night, the "caller" feeds the setlist to the poster song-by-song. For the entire three to four hours of the Springsteen experience, these people are eagerly waiting for words on a screen -- not even audio or video. The community feel of it all -- which could be easily tied into a streaming media platform -- helps keep them engaged. However, even if you took that away, I'm pretty confident they would keep coming back absent any other reliable and consistent setlist source. Springsteen fans visit multiple sites that track the setlist in real-time night after night, either in anticipation of the show (or shows) they plan to see or as therapy to ease the sadness associated with not being able to attend a stop on the tour. This practice is not just a Bruce thing. Then there's Google's (GOOG) YouTube. It's the place you go to search for bootleg recordings of live concerts. Many diehards browse YouTube immediately after a concert ends, refreshing the screen at regular intervals waiting for videos to hit. If you happened to have been at a show, the YouTube component takes on even more meaning. Seeing a musician and/or band you have a strong emotional bond with is nothing short of a cathartic experience. It's intense. It's euphoric. It's a bit like a drug. On that Springsteen site I mentioned, you'll sometimes see the term "post-Bruce depression" pop up. Granted -- there might be more going on with you psychologically if you suffer Springsteen withdrawal to the point of melancholy or worse, but that doesn't make the affliction any less real. By and large, the music industry does a wholly pitiful job meeting the emotional needs of its customers. We're forced to scrap and scavenge third-party platforms from fan sites run on a shoestring to YouTube to get our fix. And that's the point, we need our fix. Once we get a taste of the live experience, we go searching for other ways to self-medicate. To feel like we're part of something we know can't match, but is better than nothing vis-a-vis being there. If serious and casual fans can become addicted for periods of time to refreshing a freaking message board thread to see the name of the next song an artist played, don't you think they might pony up for high-quality streaming access to the tour?

A rhetorical question which leads into exactly what music lovers might be buying after the click to Page Two ...

Stock quotes in this article: YHOO
Yahoo! Should Emulate Live Concert Tour Streaming After Major Professional Sports Apps
I use NHL Game Center and the far superior Major League Baseball At-Bat (premium edition) to follow hockey and baseball. The basic concept of both is that for a monthly fee you receive access to a live stream of pretty much every game every night (with the exception of local blackouts and national telecasts), plus you receive instant archive access to games as well as statistics and other features geared toward diehard as well as casual fans. There's even smart integration with each league's e-commerce merchandise sites.
To my knowledge, these apps have done nothing to hurt the leagues. In fact, they're promoting them like crazy because the loyalty and passion they nurture can help drive everything from ticket sales to ratings to merch sales. For goodness sake, this season, you receive free MLB At-Bat online access if you purchase DIRECTV's (DTV) MLB Extra Innings package. That deal put me over the edge to buy. And shortly after I made that investment, I bought a Blue Jays cap and hoodie. Go figure.
Anyway, Yahoo! -- or somebody else -- could structure it any number of ways. By artist. By genre. They could allow you to select X number of artists for this much per month (or year) on an ascending scale. They could go a la carte by show. Or both. And more. Whatever. The particulars don't matter at this stage. What matters is that Yahoo! -- or whomever seizes this massive opportunity -- should model live concert streaming after the sports apps. Using Taylor Swift as an example ... She's likely to tour later this year or in 2015 at the latest after she releases a new record. That's the ideal time to launch a live concert streaming package, via Yahoo!, which provides subscribers access to a live stream of each stop on the tour, archived video access to each show on the tour and other bells and whistles, which could range from discounted event tickets and merch to other Taylor-related features. This would be a goldmine. If the sports leagues can do it and World Wrestling Entertainment (WWE) can do something similar, there's no reason in the world why Taylor Swift and a whole host of other acts cannot do likewise. In fact, they're leaving money and synergy on the table by not doing likewise. If money's an issue for younger Swift fans still under parental control, not a problem. These diehards will cancel Netflix (NFLX) subscriptions left and right to cover or supplement the cost (probably the latter) of a Taylor Swift tour subscription. And it won't be merely a kid thing. It's ignorant misnomer to believe Swift's audience consists solely of penniless school kids. First, just because they're school kids doesn't mean they're penniless. But, beyond that, the country audience is massive. And it's young. It's precisely the demo that's apparently leaving Facebook (FB) (though I don't buy that). A thought that triggers hysteria among the financial and tech media. I include that simply to say -- the teen to 34-year old demo is a vitally important one. A recent The NY Times article on the "young, rich and ruling" class of country music fans noted: On the radio, (country) has displaced Top 40 as America's most popular musical format. Its biggest star is Taylor Swift, a 24-year-old phenomenon who last year earned more from music than any other singer ... ... country's increasingly mainstream appeal was on display during the Academy of Country Music Awards on CBS, which last year had 15.5 million viewers, its biggest audience in 15 years, according to Nielsen. ... Country's popularity on the radio is reflected on the road. Live Nation (LYV) recently reported that audiences for its country concerts grew 50 percent last year to seven million, and the company said that it now views country as one of its two fastest-growing genres, along with electronic dance, the hot youth trend of the moment. Ms. Swift's tour last year, which was promoted by Live Nation's rival, AEG Live, was the biggest in North America over all, with $113 million in ticket sales ... But here's the deal -- Swift's appeal isn't merely that she's country. Because she's really not, at least by any traditional definition of the term. It's that she's the most successful, dynamic and talented crossover artist of our time. And maybe ever. Top 40 shouldn't worry much because Swift's carrying it as much as she's carrying country, no matter what the official numbers state. There's precedent for what Swift has done -- Canadian Shania Twain -- but nothing that matches the scope and scale. Or the passion ... from fans. This phenomenon should strongly suggest a hot iron to the music industry. One it should strike NOW. But there's no organizing (or smart enough) force within the industry to do what needs to be done. That's where a dynamic leader and visionary such as Mayer comes in. She walks into a meeting with whomever needs to be there from Swift's camp and associated factions and says something to the effect of I don't care what your rules and regulations are. I don't care about your backwards royalty and licensing structures. I don't want to hear why we CAN'T do this. All of the above is why you have seen industry wide revenue decrease. Because you didn't properly seize the future. Because you live by rules as opposed to make them suit what you should want and need to have happen. Well now we're going to help you do things the right way for once. And we're going to start with Taylor Swift. Mayer will probably be nicer than that. Or maybe she won't. Doesn't matter. Because the thrust of her desire (assuming she has one) to make live concert streaming a major part of Yahoo!'s online video strategy is righteous. It would be an offer they -- be it Taylor's label, Big Machine, or anybody else who claims a piece of her action -- would be certifiably insane, not to mention inane, to pass up. Others would watch and, in no time, they'll be calling Yahoo! asking how they can sign up. Follow @rocco_thestreet --Written by Rocco Pendola in Santa Monica, Calif.
Stock quotes in this article: YHOO Rocco Pendola is a full-time columnist for TheStreet. He lives in Santa Monica. Disclosure: TheStreet's editorial policy prohibits staff editors, reporters and analysts from holding positions in any individual stocks.