There's big news going around the Stansberry & Associates office this month... In his latest issue, our colleague Porter Stansberry told readers of his research service to prepare for a major market decline. Porter believes all the borrowing and money printing going on at the world's central banks will produce a crisis that upends the currency, bond, and stock markets. He's urging his readers to sell many (but not all) of their stock positions. Porter is one of the most widely followed investment analysts in America... and he has a good track record with big market calls like this. So what should you do about it?
If you're a trader, you should be focused on limiting risk first and maximizing profits second. So it's worth thinking about how you would handle the kind of scenario Porter sees coming. Fortunately, there's a very simple, safe plan available... You let the market decide. As we often say in our DailyWealth Trader service, the market is the judge, jury, and executioner of every trade. That's why we use predetermined stop prices on all our positions. If a stock we're following declines by a set amount, we exit the trade. If it doesn't... we can continue collecting profits. We've seen both scenarios at work this year.
Back in October, for example we recommended oil-services firm C&J Energy Services (NYSE: CJES). After our write-up, the stock jumped from about $19 to $25. When you see a big, fast gain like that, it's a good idea to take steps to protect it. So we suggested tightening the stop loss on the trade...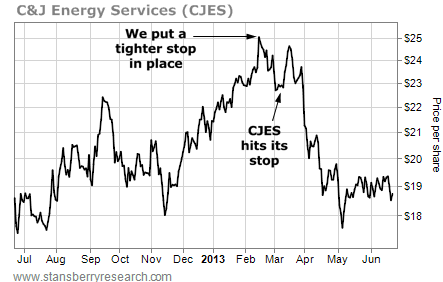 We moved closer to the exit... and then the market told us it was time to go. While C&J's share price completed a "round trip" back down into the high teens this spring, readers who followed our advice walked away with a 17% gain.
It doesn't always work that way, of course. Our readers bought shares of drugstore giant Walgreens (WAG) in early 2012. By February of this year, the position was showing a 33% gain. And we suggested tightening the stop loss.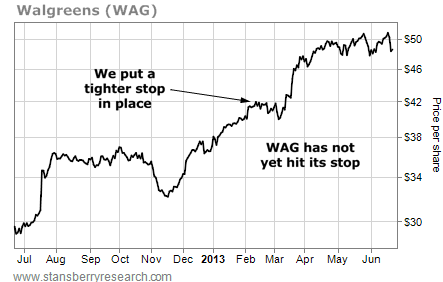 Afterward, shares marched higher. Even after the recent market weakness, they're a chip-shot away from a new all-time high. Our readers can continue to make gains here until the market tells them otherwise.
The S&P 500 ran up as much as 23% from its November bottom. In other words, the market packed two years' worth of gains into a matter of months. And many stocks soared to new all-time highs. That was a "gift from the market gods." So if you're sitting on big gains today, it's a good idea to take steps to protect them. Consider tightening up your stops.
We can't say whether the crisis Porter predicts is around the corner. Nobody can. It could be six months away... two years away... or not there at all. Fortunately, you don't have to guess or predict. You can stay long your winning trades... and benefit if there's more upside... and use exit strategies that will protect your profits and capital if a downtrend occurs. If you've planned the trades, all you need to do is trade the plan. – Amber Lee Mason and Brian Hunt