Oh sure... it's all fun and games when prices are going straight up.
But as the old saying goes... What goes up must come down. And the straighter up it goes, the faster it drops...
Take the utility sector, for example...
We first warned about the dangers of the parabolic move in utility stocks a few weeks ago. You can see what has happened to the sector since then...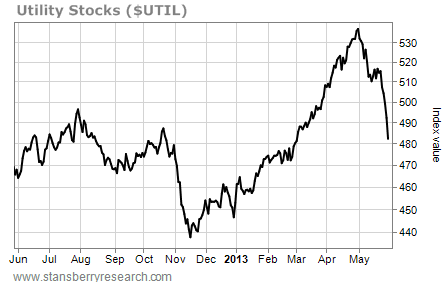 So with this chart in mind – and with a profitable utility short sale under our belt – it's worthwhile to look for other parabolic moves in danger of breaking down. Here's what we found...
Japan's stock market has been ripping higher since December – when the Bank of Japan announced its own version of quantitative easing. The Japan iShares Fund (NYSE: EWJ) rallied 33% in five months before giving up some of those gains last week.
Over the long term, this bull market could power higher. But in the short term, if the parabolic breakdown plays out as it has in the utility sector, any brief bounce this week could be followed by even lower prices later on. EWJ has support at about $10.50 – which looks like a good downside target...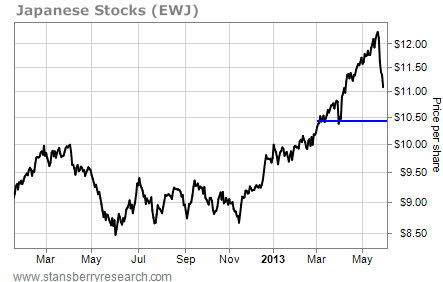 What started out as a steady grind higher for Microsoft (NASDAQ: MSFT)shares this year has morphed into a parabolic blast-off. The stock is up 23% in just the past five weeks.
The chart does look like it can push higher at least one more time. But the move is getting very stretched. A reversal from slightly higher levels could knock the stock back down to support near $31. If you have a long-term position in the stock, that shouldn't affect you one way or the other. But short-term traders can consider taking some money off the table...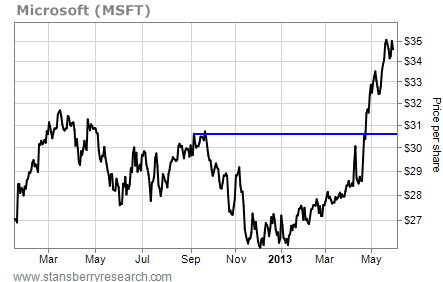 With the stock up 200% in two months, there's no question shares of Tesla Motors (NASDAQ: TSLA) have gone parabolic. Shorting this stock is tough to do, though, since 44% of the float is already sold short – and painfully underwater. When this electric-car bubble finally pops, it should be one heck of an explosion...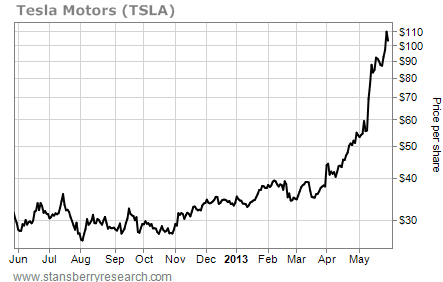 – Jeff Clark