If history is any sort of guide... May is going to be an interesting month.
Stocks are behaving the same as they did in early 2012, with a relentless four-month push higher. The similarity continued yesterday as stocks fell hard. But anyone anxious to buy into yesterday's dip might want to re-think that idea... Last year, the S&P 500 fell 134 points during the month of May. And I suspect we'll see a similar pattern this time around.
But stocks aren't the only investments that are following the same patterns as last year...
The action in interest rates is similar, too. Take a look at this chart of the 30-year Treasury rate...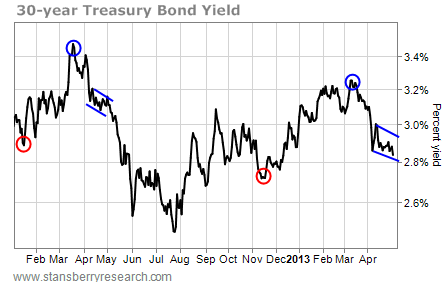 You can see how interest rates bottomed in the later part of 2011 and 2012 (the red circles). Rates then moved steadily higher until peaking in mid-March of 2012 and 2013 (the blue circles). Last month, rates chopped back and forth in a slightly declining channel, just as they did in April 2012. What comes next could be bad news for bond-market bears.
Volatility is also showing a similar pattern to last year. Take a look at the Volatility Index (the "VIX")...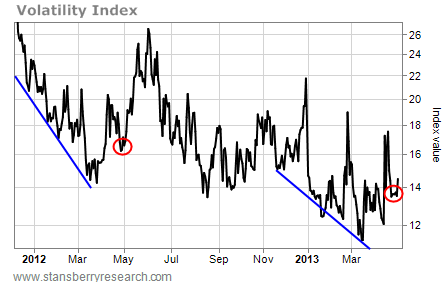 The VIX declined for a few months before hitting a bottom in March 2012. It then pushed higher, fell back, and formed a higher low at the end of April. The chart shows the exact same pattern this year. In May 2012, the VIX spiked 60% higher. A similar move this time around will push the Volatility Index above 22.
Finally, let's take a look at gasoline. You'd think gas would be correlated with the rest of the financial markets. But you'd be wrong...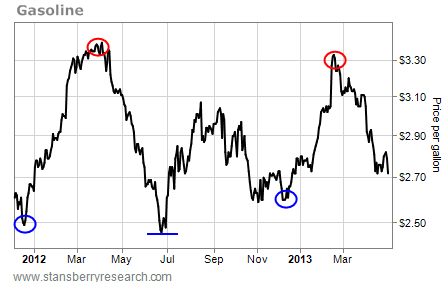 Gasoline bottomed at about the same time in 2012 as it did in 2011. It then rocketed higher. The peak this year came about a month earlier than it did last year. So maybe gasoline prices will hit bottom about a month earlier this year as well. We'll have to wait and see.
– Jeff Clark